Roofing Services
Welcome to Contract Roof Plumbing (CRP)
Contract Roof Pluming focused on providing a premium service through the supply of the highest quality materials and professional roofing installation practices.
Our services range from commercial roofing projects to small residential roof to commercial roof maintenance.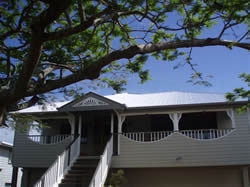 We provide a range of roofing design, installation, restoration and maintenance services throughout Brisbane and metro areas.At CRP we believe that our prompt and reliable roofing service as well as our standard of workmanship is what set us apart from other roofing specialists and contractors - our competitors. In addition to this we offer:
Quality workmanship on all roofing jobs large or small
Domestic Commercial Industrial
25 years experience in the roofing industry
Free roofing inspections and quotes
Quotations off the plan
Roof maintenance
Trade work guaranteed
New Roofs
Whether building a new home yourself or Contract Building, CRP is the team to call! We can quote you directly off your plans, or work with your ideas to create a design to suit your specific needs.
Re-roofs
If you have irritating leaks or rusted roofs gutters or downpipes, then the most cost effective way to give your home a complete facelift is to replace your old roof with a brand new one. This is also a great opportunity for you to further protect your home with roof insulation, which combines the benefits of reflective thermal insulation with superior weather protection.
Extensions
When renovating or extending a pre-existing home, give CRP a call! We can colour match to your current roof, offering you an exceptional bluescope steel colorbond or zincalume finish to compliment your home.
Repairs
CRP also specialises in roof maintenance and repairs. From fixing leaks, replacing rusty metal sheeting, repair damaged flashings, capping, and cleaning gutters.
Shades
Contract Roof Plumbing Sun Screens & Louvers
Contract Roof Plumbing have been leaders in providing quality security screen products for homes and businesses for over 15 years. We are a locally owned and operated company specialising in producing the highest quality, most affordable window treatment on the market today!
We pride ourselves on being innovative. Our design improvements over the years set us apart from our competitors and ensure our client's receive the best possible solutions.
Our focus is on providing affordable high quality products, customer service. With over 40% of our sales originating from referred or repeat clients.
Our promise to you: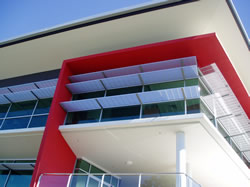 To understand your needs and ensure our products meet those requirements
A commitment to utilise the latest technologies to achieve the highest quality products available
We will be competent and professional and offer value for money
To complete all work in a timely and tradesman-like manner
Screens are constructed from powder coated aluminium materials, aerofoil shaped blades, batten screens, ferforated flat sheet set at varying distances apart & attached to the outside of buildings.
Sun Screens can be mounted off the side of the house over the window or can hang from under the eaves protecting the home from sun & rain.
The angling of the blades & their spacing apart provides the client with the amount of privacy they feel is required.
The modern clean lines of the blades look equally as attractive from the inside and out.
Shutters are constructed from powder-coated aluminium so they can withstand out harsh Australian climate.
Powder-coated to a wide range of standard Dulux colours.
Water Tanks
Custom fabricated Slimline & Round
CRP specialize in manufacturing supplying and installing high quality Bluescope Steel Aquqplate galvanized and colorbond water tanks. With water becoming an everincreasingly precious resource, the installation of a rainwater tank can save water supplies and save you money. Rain water tanks come in a range sizes making them suitable for just about any home or apartment application.
Getting Set Up with a Rainwater Tank
Find the Right Tanks for your needs: CRP will be able to help you find and select the correct size and shape of your water tank, while ensuring that you meet all council requirements, saving a lot of hassle in the long run. Local councils have their own requirements when it comes to water tanks and these can include things such as placement, colour, and noise control. Larger water tanks (over 10,000 litres) may also require a development approval.
Installation: CRP will manufacture and arrange all the services when installing a water tank. They will deliver and install the tank for you if requested CRP are also able to install the necessary plumbing, screens and insect guards, so that water can be accepted from collection points on the roof, for gardening, to flush toilets etc.
Repairs and Maintenance: From time to time you may need repairs to your rain water tank or a simple check up. CRP is available to assist you with any on going maintenance required.
Rainwater Tank Considerations
It is important that you get the right water tank for your home and there are some factors that you will need to take into consideration.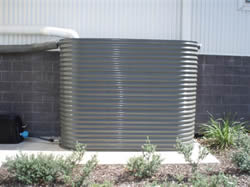 These include:
the size of the water tank
how many people live in your house
how large your garden is
what you intend to use the rainwater for
the roof catchment area
council requirements
where you live – drier areas generally require larger tanks
your existing water usage
what guarantee there is on the tank
how much space you have
what preparation you will need to undertake on the ground where the tank will be
Water tanks can be used for several things around the home:
flushing the toilet
topping up the pool or spa
watering the garden
laundry usage (washing machine)
supplying the hot water system
If using your water inside the home, the tank should be fitted with a filter and it will need to have a minimum amount of water in it at all times. This may require some plumbing alterations, as any connection to the main water supply (for topping up the tank) requires that you have an air-gap in order to minimize the risk of any contamination of the mains supply. Alternatively, tanks may be topped up by a water truck.
Rainwater and your Roof
The roof and gutter system is a factor that should not be overlooked when installing a water tank. You should ensure that the guttering is suitable for rainwater collection and install gutter guards to stop leaves, insects and other debris from finding their way into the tank. The roof and guttering need to be regularly inspected and cleaned, and CRP are the professionals who will be able to help you.
Also ensure that the tank material and the roof material are compatible with each other. Incompatible materials may cause rusting and corrosion in the tank.
When hiring a professional, ensure that they are qualified and experienced. Try to get at least three quotes before selecting anyone and ask if the tank comes with any guarantee or warranty.
Trust Contract Roof Plumbing to do the complete roofing job to the highest possible standard.
Roofing is a specialised trade.